Shaun WIlliams of the 2013 15u team (#23) was chosen to play in the 2013 annual Sonny Parker All-Star Game at Simeon HS in Chicago. Shaun is the 2nd player ever from Central IL chosen to play in this prestigious event in Chicago (the only other player was Larry Austin Jr.-Springfield Lanphier)
(above)Congrats to 17u player Noah Wells! He won the 2014 AYBT Nationals 3 pt Contest in Bloomington, IL!
(above)- Congrats to 13u-Elite player Payton Sheen! He won the July 2014 13u Gym Rats Nationals 3 pt. Contest! He won after 2 OT rounds with an amazing shooter from the King James Shooting Stars team.
4/13/14- Congrats! 15u (below) wins the Gametime Gym April Tourney, 4-0!
6/7/14- (above) Congrats to 13u Elite and 13u RED for winning the PAE Shaun Livingston Shootout!
News & Announcements:


Fall/Winter 2014-2015
September 20: Congrats to all the players who made the 14-15 Fall/Winter 6th and 5th grade teams!
Oct.28th: Congrats to the 11u team for going 2-1 and earning 2nd place in Chicago at their 1 day shootout! 12u made a solid showing as well.
Nov. 7th: 11u goes 3-0 and win the Indiana Bluechip Shootout!
Nov. 23rd: 12u goes 4-1 and earns 2nd place at the Stars of Tomorrow tournament at Harper College! 11u earned 1st place and went 5-0 to win it all!
Nov. 24th: The Champaign Heat 6th Grade Competitive League at Douglass Rec tips off tonight! Champaign Heat destroyed the Jefferson Jaguars and the Franklin Knights narrowly defeated the Champaign Heat-RED squad in what was a great game.
Dec. 1st: Champaign Heat lost a tough game by 7 points to the Illinois ALL-Stars/Top 10/Team Manimal squad. Great game!
Dec. 8th: Champaign Heat 11u wins 3rd place and goes 3-1 at the NIU Huskies Championship tournament hosted by forthegamesports.com.
Dec. 10th: Champaign Heat wins big against Illinois All-Stars! Go Heat!
Dec. 17: Gluck to the Heat-RED team as they take on the Mahomet Bulldogs (orange team) tonight
Dec. 19: Gluck to the travel 6th and 5th grade teams as they travel to Bloomington, IL this weekend to compete in the Gametime Gym Christmas Tournament. Go Heat!
Dec. 22: Congrats to 12u, they won the Gametime Gym Christmas Tourney!!!
Jan. 26: 11u goes 4-1 and earned second place at the PAE Holiday SHootout over the weekend! Good job boys!
Archives
Spring/Summer 2014
March 1-2: The 11u, 12u, and 13u-Elite teams traveled to the Waukegan Fieldhouse this weekend for the Bluechip "Little 10" tournament. 13u-Elite went 3-1 and placed 2nd place, losing to the Memorial Park Wildcats in the Gold division championship. The 12u boys went 3-1 and earned 2nd place losing to Caron Bulter Elite in the silver Championship game. 11u had a tough weekend and looks to bounce back next weekend in Peoria.
March 8-9: The 12u boys won 2nd place in the Gold division of the P.A.E. Shaun Livingston Tourney this weekend. The 11u boys made it to the final Four of the Gold division, they lost a overtime thriller to the Bloomington Gators. The 13u Elite boys made it to the final four of the Platinum division with a great win against the IL Bears.
March 15-16: The 11u, 12u, and 13u Elite Boys traveled to St. Louis over the weekend for Arch Madness hosted by United Hoops of America. Each team battled hard and came away with 2nd place! Great showing down in STL. boys!
March 22: 13u-Red tips off their season in W. Lafayette, IN for a one day shootout at Bluechip basketball. The boys played hard but did not well. They could have went 3-0,but ended up 0-3. Looking forward to the next tourney in Bloomington for 13u-Red
March 29-30: 17u, 15u, and 13u-Elite traveled to Merrillville, IN to the Fieldhouse to compete in the 5th Annual Chicagohoops.com Spring Tip-Off Classic. 17u tipped their travel season off vs some of the best talent in the midwest. 15u did a great job this weekend beating the Illinois Spartans, SW Jets, and they almost defeated TP (Terry Porter) Elite in some thrilling games over the weekend. 15u advanced to the Gold division (highest) and made a lot of noise. 13u-Elite did a great job as well. They narrowly lost in an exciting back and forth Gold division championship game to Scottie Pippen Elite 61-52.
April 3: Good luck to the 17u, 15u, 12u, and 11u boys April 5th in W. Lafayette, IN for a one day shootout! Looking forward to some tourney wins!
April 13: 11u, 12u, 13u-RED,15u and 17u competed at the largest Gametime Gym Spring Tournament ever over the weekend! 11u finished 2-1 and earned 3rd place. 12u started off slow, but finished 2-1 and earned 3rd place as well. 13u-RED started fast but ended up 2-1 after losing to a talented Team Quick team. Congrats to 15u! They went 4-0 and won 1st place! 17u had a up and down weekend losing to Stl. Pressure and finishing 2-1. Overall great weekend, 12-4 overall!
April 18: 13u Elite and 13u RED will both be traveling to W. Lafayette, In this Sat for a one day shootout!
April 22: 17u, 15u, and 13u Elite are looking forward to the first "live" NCAA CERTIFIED tourney of the spring season this weekend! Our teams will be attending the Baylor Youth Nike Spring Showdown in Romeoville, IL. D1,2,3, NAIA, and JUCO coaches and scouts will be in attendance. In addtion, youth basketball media services such as ESPN, SLAM MAGAZINE, BALLISLIFE, and Rivals will be in the building. Go Heat!!!! Scholarship time fellas! Work!
May 4: Congrats to 17u, 15u, and 13u Elite for taking over Central IL and all winning Championships at the Gametime Gym May tournament.
May 12: 17u, 13u Elite, and 11u all made solid showings at the Adidas May Classic! Good job boys!
May 27th: Congrats to 15u for winning the AYBT MAY MADNESS Michigan tournament in Mt. Pleasant, Mi.
June 8th: Congrats to 13u Red and 13u Elite for making a top 4 finish in the June Onedayshootouts.com tourney in West Chicago, IL.
June: Good luck to our high school players as they prep for the upcoming school season during this month during their school summer league programs.
July 8th : Big shot out to the 13u teams! Both teams traveled to Peoria for the Shaun Livingston Shootout and both came home with a championship in their divisions! Go Heat!
July: Good luck to our teams as they travel to the Baylor NCAA Certified Chicago Summer Slam, AYBT Nationals, NCAA Certified Jr. Gym Rats Nationals, and Gym Rats Nationals this month! Live Period!
August 3rd: Congrats to 13u for winning Bluechip Nationals after Nationals to end the season.
5/4/14- Congrats to the 17u (above), 15u and 13u Elite (below) boys teams! They won the Gametime Gym May Shootout! 11u and 12u both earned 3rd place and finished 2-1
Check out our news from this past 2016 Spring & Summer Travel season! We look forward to 2017! Heat hosted the following teams for the 2016 Spring/Summer travel basketball season:
6th(B), 6th, 7th, 8th, & 9th Boys
7th, High School (8th-12th) Girls
March 12, 2016- High School Lady Heat made their debut this weekend in a 1 day shootout in Lafayette, IN. They went 2-1 and earned 2nd place! Congrats Ladies.

March 13, 2016-Congrats to 12u and 14u for earning 2nd place at the Reebok Arch Madness Classic in St. Louis, MO!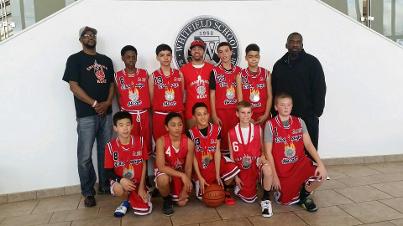 (above) 12u finishes 3-1, 2nd place Reebok Arch Madness Classic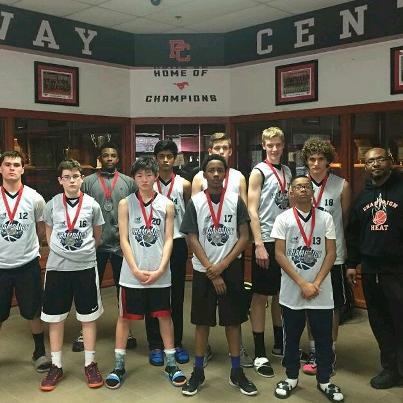 (above) 14u finishes 4-1, 2nd place
Reebok Arch Madness Classic (uniforms coming soon)
April 13, 2016:
Gluck to the 6th, 7th, and 9th grade boys this weekend at the NCAA Certified Baylor Youth Nike Spring Showdown in Chicago!
Gluck to the High School Lady Heat squad this weekend at the NCAA Certified USJN sold out event, Hoops In the Heartland in Indianapolis!
Below: 12u vs Florida Knight Rydas at the Nike Spring Showdown!